Something's Brewing – An Ultimate Bed and Brew Winter Weekend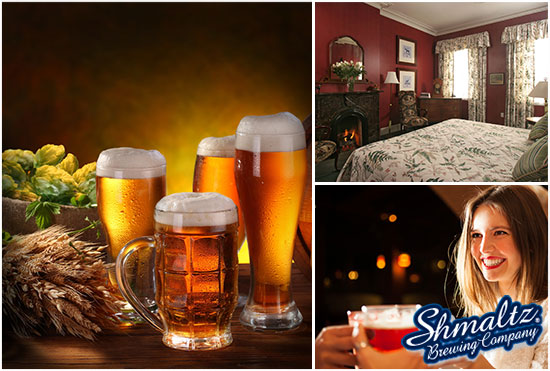 Saratoga Arms in Saratoga Springs, NY is pleased to announce an exciting package designed for the beer enthusiast and those who want to learn more about the brewing process, Something's Brewing-An Ultimate Bed and Brew Winter Weekend. Saratoga Arms is partnering with the Shmaltz Brewing Company to offer you a weekend of craft beers, fine dining and just plain fun.
The great winter beer getaway is available on the weekend of March 21-23, 2014 or April 11-13, 2014.
QUEEN BED – $599 per couple for the weekend
KING BED – $629 per couple for the weekend
What's included in the package: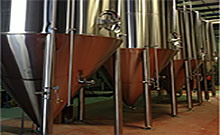 2 nights lodging in a luxurious room at Saratoga Arms
Friday evening beer sampling at Saratoga Arms
Full Breakfast on Saturday and Sunday morning
Transportation to/from Shmaltz Brewing Company
VIP guided tour of Brewery and tasting
4 course beer pairing dinner
Assorted beer gifts placed in each room
The Shmaltz Brewing Company recently built a new craft brewery in the Saratoga area and brews several varieties of the freshest craft brewed ales and lagers. The weekend will include unprecedented access to the brewery and the brewing process. Following the brewery tour partake in a delicious four-course beer pairing dinner. A wonderful way to warm your winter bones.
We also have rooms with fireplaces and whirlpools for an additional fee. Inquire at 888-242-2390 or reservations@SaratogaArms.com
View Event Itinerary
Friday Evening
Arrive and check in at the hotel
8-10pm Join other beer aficionados for an evening of beer sampling.* An expert brewer from the Shmaltz Brewing Company will be on hand to answer questions and swap stories.
*We encourage you to bring samples of your own brew, craft beer or favorite local lager from you neck of the woods to share. All enthusiasts are invited to sample from the different offerings.
Saturday
8:00-10am Enjoy a full breakfast at Saratoga Arms
10-3:30pm Explore the city of Saratoga Springs. Many unique shops, world class museums and fine restaurants are within walking distance of Saratoga Arms
4:00pm The shuttle will wisk you off to the Shmaltz Brewing Company for a private and indepth tour. While there, we will stop in their tasting room and sample some freshly made beers and ales.
6:30pm Sit down to a four-course meal with carefully considered beer pairings from the day's tour.
Sunday
8:00-10am Another scrumptious Saratoga Arms breakfast
11am Checkout time, but feel free to spend some time visiting our local merchants before heading home
Can't join us in Saratoga Springs for our beer weekends?
We highly recommend the bed and brew weekends at the Inn at Copperstown and Brewery Ommegang

497 Broadway
Saratoga Springs, NY 12866
(518) 584-1775 phone
(518) 581-4064 fax