" Saratoga Arms ...embodies all the quintessential elegance and charm that is synonymous with Saratoga. "
DAILY GAZETTE
Press Releases
Please check back soon for Press Releases at our hotel in Saratoga Springs, NY. For further information, contact Judy Kennedy: Saratoga Arms 497 Broadway, Saratoga Springs, NY 12866 1.518.584.1775 Email: jkennedy@SaratogaArms.com or go to www.SaratogaArms.com
Quotes & Accolades
AAA Northeast
Wake up to Fall Foliage at a Northeast Bed and Breakfast, September 2016
"Saratoga Arms is a luxury New York bed and breakfast with a private club atmosphere and close proximity to many splendid fall foliage trails."
---
Authentic Luxury Travel
Saratoga Springs – A Gem in Upstate New York, May 2015
"Best place to stay in Saratoga Springs…"
---
ELLE DECOR
Goes to Saratoga and the Adirondacks, July 2013
"boasts a magnificient winding staircase"
---
Boston Globe
A Tank Away, July, 2013
"a spotless boutique hotel that exudes Victorian grace down to its brass hardware and ornamental ceilings"
---
Adirondack Trust Company
Business Success Stories, August 2012
---
Skip the Horse Races in Saratoga Springs
New York Magazine, May 2013
"Surround yourself with genteel style at the Saratoga Arms, an impeccably restored, 1870 Second Empire brick mansion"
---
5 Hideaways That Aren't the Hamptons
CNN, July 2012
"a beautiful B&B housed in an old brick home, with a front porch perfect for a morning cup of coffee"
---
America's Historic Hotels – New England
Kevin's Travel Journal, November 2011
"Saratoga Arms will prepare customized packages for individuals, families and business groups."
---
Saratoga Springs Racing Trip on the Showcase Showdown
Price is Right, February 2011
---
Atlanta Journal Constitution, July 2010 
"The family-owned and -operated Saratoga Arms …fills fast during summer"
---
Splash Soak and Sip
The New York Times, August 2009 
"has a terrific front porch"
---
A Day at the Races
Everyday with Rachael Ray Magazine, August 2008
"An old brick mansion on the main drag…The scene can't be beat. In the morning, have a little coffee on the veranda and watch all of the horse-race fans spend their last moments in this awesome town!"
---
Off to the Races
The Atlantic Magazine, April 2007
"Situated right on Broadway, the 31 room Saratoga Arms combines the intimate feel of a bed and breakfast with the crisp service of a boutique hotel. Housed in an 1870 building with a wraparound porch, it's within easy strolling distance of downtown restaurants, bars, and shops. "
---
Four Saratoga County Companies are Among Small Business Excellence Award Recipients
Saratoga Business Journal, July 2006
"Saratoga Arms is a boutique hotel owned by Noel and Kathleen Smith. It offers 31 upscale guest rooms, three conference areas and state-of-the-art business amenities. Funds from the SBA, through Adirondack Trust, were important in the two-phase renovation (completed in 1999 and 2005, respectively) that established the hotel in the historic downtown business district. It is a concierge hotel under the person supervision of the local proprietors. "
---
Saratoga…of horses and history
Newsday, August 2005
"For accommodations with Victorian charm try the Saratoga Arms. …with 16 rooms and outdoor wicker chairs overlooking Broadway. "
---
Getting in a New State of Mind
Global Traveler, August 2004
"Built in 1870 by the grandson of Gideon Putnam, the proprietor of the town's first inn and commercial bathhouse, this Second Empire brick concierge hotel is run by Noel and Kathleen Smith, who maintain the building's authentic Victorian character without making it cutesy. Colorful hanging baskets decorate a wrap-around porch. The black floral carpet in the living room and clawfoot bathtubs in the guestrooms are Victoriana. In the heart of downtown, the hotel has just completed an expansion that doubled its size to 31 rooms plus a fitness center and massage rooms."
---
A Good Run
Victorian Homes Magazine (Cover Article) February 2004
"Dubbed Saratoga, or "Place of fast healing waters," by Native Americans who believed the water had curative powers, the mineral springs of upstate New York have drawn visitors for centuries…In 1998, almost 130 years later, Saratoga native Kathleen Smith and her husband, Noel, both hospitality professionals, came upon the structure, which by then had fallen into disrepair…" Read entire article.
---
What's Doing in Saratoga
The New York Times, August 2003
"The Saratoga Arm offers Victorian splendor from the grand staircases and multiple fireplaces to the 16 rooms appointed with antiques. The sprawling wraparound porch is the site of a genteel celebration after the races. "
---
Spa City hotel plans expansion
The Post-Star, July 2002
"The owners of an upscale 16 room hotel at the corner of Broadway and Long Alley are proposing to add 12 more rooms, in what they say is yet another sign of the city's booming tourist economy." Read entire article.
---
What's Doing in Saratoga
The New York Times, July 2002
"Constructed in 1870 and renovated in 1998, the Saratoga Arms is a place of grand staircases, ornate moldings and ceiling medallions. The 16 rooms are well furnished with antiques but also have phones, television and data ports. Most have working fireplaces. A full breakfast is served daily, and guests are invited to join in the post-race parties on the spacious porch overlooking Broadway."
---
In the grand style, and Old World bed and breakfast
Boston Globe, September 2001
"Broadway was designed by Gideon Putnam to be as wide as necessary to turn a team with a wagon…A street designed for U-turns." Not that Broadway. The one Putnam designed is the main drag in Saratoga Springs, a town partly in a time warp, a relic of High Victorian style. It was the enterprising Putnam who, in the early 19th century, rediscovered the natural springs that became the town's economic engine-water as a cure-all. One of Saratoga's treasures is a Second Empire manse build by Putnam's son in the 1870's. A century later, it was derelict, like much of Saratoga. It was reborn after Kathleen and Noel Smith purchased the property in 1997. Fired by a preservationist passion, the Smiths transformed the building into a luxury bed and breakfast, The Saratoga Arms, at the North End of Broadway. The tale of Putnam's U-turn is inscribed on a tile in a Saratoga Arms shower stall, a little something to ponder while you scrub. The B&B rooms are spacious, each decorated differently. One has black and white toile upholstery, the color scheme carried on in the bath, where the claw-footed tub has a black exterior….
---
Saratoga Springs, NY: Hats off to the races and the culture
Star Tribune (MN), August 2000
"The Saratoga Arms is a magnificently restored Second Empire brick hotel dating from 1870. A full Irish breakfast is served. "
---
What's doing in Saratoga
The New York Times, July 2000
"The Saratoga Arms is a magnificently restored Second Empire brick hotel dating from 1870, the year Henry James visited Saratoga. He would have loved this 16-room hotel rescued from demolition by Kathleen and Noel Smith. Rooms have antique furnishings and high ceilings; several have fireplaces and clawfoot tubs; all have voicemail, cable TV and CD players; and full Irish breakfast is served."
---
Hotel-hopping with the best of them
USA Today, December 1999
"Handwritten tiles in each shower tout a different fact about Saratoga-which is a great icebreaker with guests of the small, historic Saratoga Arms in Saratoga Springs, NY."
Fact Sheet
Get all of the information you may need in one convenient place. Click here to view our fact sheet.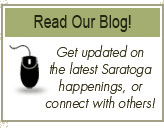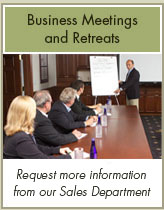 497 Broadway
Saratoga Springs, NY 12866
(518) 584-1775 phone
(518) 581-4064 fax