Download Executive
Meeting Brochure

"The front porch is reminiscent of Saratoga's grand hotels…Antique furnishings mix effortlessly with 21st century amenities…On a daily basis guests reap the rewards…(The Smith Family) continues their attention to even the smallest details…"
SARATOGA BUSINESS JOURNAL
Calling All Meeting Planners
Make sure to check out our website if you are looking for Saratoga Springs Meeting Facilities. Experience the true meaning of Small Meetings in Grand Style.
Upstate New York Meetings & Retreats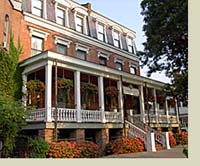 Saratoga Arms, a family owned and operated 1870 concierge hotel with thirty-one guest rooms, is in the heart of beautiful downtown Saratoga Springs, NY. Cultural activities, local attractions, and fine dining are just steps from the front door. Saratoga Springs is approximately three hours from New York, Boston and Montreal, and is just thirty minutes north of Albany International Airport.
Small Meetings in Grand Style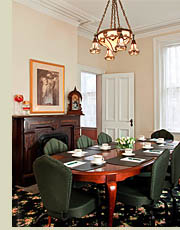 The upstate New York meeting rooms in our Saratoga Springs NY hotel are ideally suited for small meetings, retreats, training sessions and board meetings. The state-of-the-art President Grant Conference Room features an integrated projector and screen, has VPN accessibility, wireless internet and offers flexible seating in an elegant, naturally lit setting. View a photo gallery of our upstate New York meeting venues and contact our meeting coordinators who will assist you in planning all aspects of your Saratoga Springs conference or meeting. We will assist with planning breaks, lunches, dinner reservations as well as off-site activities.
Guest Amenities and Services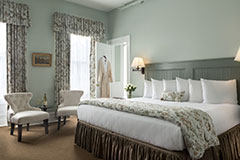 Each guest room at our Saratoga Springs hotel has cable television, wireless and high speed internet access, telephone with voice mail in both bedroom and bath, and iHome alarm clocks. All rooms are individually climate controlled and are nonsmoking. We also offer a 24-hour fitness room, featuring offers a treadmill, recumbent bicycle, an elliptical machine and a yoga mat and ball.
When your Saratoga Springs meetings require the best the Capital-Saratoga region has to offer, Saratoga Arms should be your first choice!
Request More Information
Please visit our Request For Proposal area to inquire about a meeting or call to schedule a site visit. We are always proud to show off all that Saratoga Arms has to offer. We invite you to plan your business or leisure stay at beautiful Saratoga Arms.

497 Broadway
Saratoga Springs, NY 12866
(518) 584-1775 phone
(518) 581-4064 fax