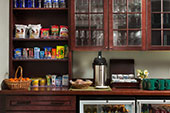 Guest Pantry
Indulge in our 24-hour complementary Guest Pantry filled with drinks, sodas, freshly baked treats and snacks — some healthy and some just to splurge on!
Breakfast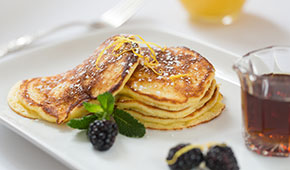 Our signature farm fresh breakfast at the Saratoga Springs Hotel is a gracious and traditional affair– included in every stay.
Our Culinary Institute of America trained chef changes our menu daily, from muffins, eggs du jour to our sweet selection. We are pleased to accommodate any dietary restrictions and requests including gluten free to tasty vegan. Please give us advance notice of your special requests.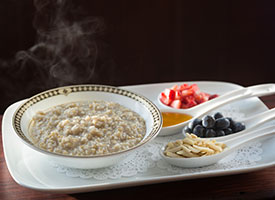 Our breakfast also includes steel cut oatmeal with assorted berries, nuts and local honey, yogurt, bagels, homemade jams and of course, fresh fruit and freshly squeezed orange juice.
The Saratoga Arms Hotel breakfast is served at individual tables with white tablecloths, fine china, and fresh flowers in one of our two dining rooms between 8 a.m. to 10 a.m. To accommodate our early morning risers, coffee, tea and homemade muffins and fresh fruit are available in our guest services pantry by 6 a.m. Catching an early morning flight or meeting? We are delighted to pack you a breakfast.
Wine & Beer Service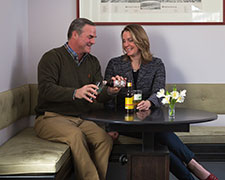 We offer an extensive wine, champagne and beer menu for our Saratoga Arms Hotel guests. Celebrating a special occasion? We will have a special bottle of chilled champagne or wine waiting in your room upon arrival.
During our warm weather months, relax on our famous Saratoga porch with a glass of wine or local craft beer. In the colder months return from dinner and relax by the fire in one of our parlors with a glass of wine or beer and a classic board game.
Small Plates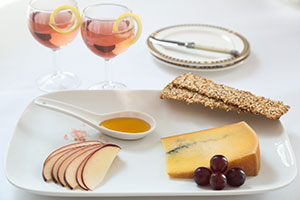 We know that traveling can be exhausting. After 3 p.m. we offer our chef's inspired small plates. Whether it's a cheese and fruit plate made with local cheeses, or a veggie tapas with housemade hummus, these specialty plates are perfect for those late night arrivals, or to accompany drinks on the porch in the early evening. Small plate menus change seasonally with available local fresh ingredients.
497 Broadway
Saratoga Springs, NY 12866
(518) 584-1775 phone
(518) 581-4064 fax