"Like" Saratoga Arms on Facebook and take advantage of these current specials!
Horse Racing
Dining Table at the Track Package
July 24-September 7 (Wednesday-Monday)
Saratoga Arms is happy to announce that Saratoga Arms has again reserved a dining table at the Turf Terrace Clubhouse. Our guests who purchase seating can enjoy a full day of racing with lunch, drinks or snacks as you overlook the track and watch your favorite horses cross the finish line.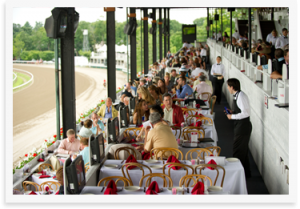 We are aware that some of you have had difficulty securing your usual seating or dining tables because of the new NYRA system. And others are new to the racing game and may not have discovered the unique vantage point of the Turf Terrace.
You may reserve all 6 seats for a "private table" (our recommendation) or you may purchase a few seats and enjoy the race with other guests from Saratoga Arms. Your table/seats are yours for the entire afternoon.
Pricing varies by date (a range of $60-$90 for the table, $10-$15 per seat), and is on a first-come first-served basis. Seats for the Whitney (Aug 8) and Travers (August 28-29) are SOLD OUT.
Please note that all confirmed requests will be charged right away and will be non-refundable.
Please email your seating requests to JKennedy@SaratogaArms.com (We apologize but we are unable to take phone requests.)
Please give your name and the date(s) of your reservation at Saratoga Arms.
Please indicate your preference for table dates (1st, 2nd and 3rd choices)
Please specify the number of seats you would like to reserve (Buying 6 seats gives you a "private table" which is our recommendation)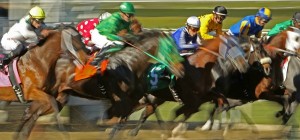 We hope to hear from you soon if you wish to make a table reservation and we look forward to seeing you at Saratoga Arms!

Packages & Add Ons
497 Broadway
Saratoga Springs, NY 12866
(518) 584-1775 phone
(518) 581-4064 fax
5
stars - based on
280
reviews