And they're off!!  The 150th season of racing is officially under way and the celebration in Saratoga Springs is heating up. Coming up on August 2nd will be a Saratoga 150 event not to miss…the Floral Fete Promenade and Congress Park Ice Cream Social.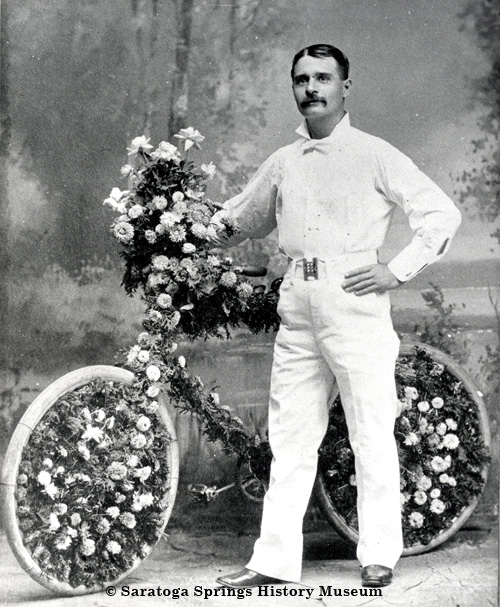 Reminiscent of a tradition from the late 1800's, it was local philanthropist Marylou Whitney, who thought to bring it back.  Leading the Saratoga 150 promenade will be Mrs. Whitney herself, accompanied by her husband, John Hendrickson, in a carriage decorated in pink roses.  Followed by horse-draw carriages, vintage automobiles, floats and bicycles, wagons, baby carriages, and non-motorized contraptions on wheels; everything will be beautifully decorated with flowers.
Registration is open to adults and children wanting to participate in the categories of adult bicycles, baby carriages, and wagons or contraptions on wheels.  Participants will get to be creative by decorating their entries with flowers.  Efforts will be rewarded with cash prizes being distributed in all categories, along with a "most creative entry overall" award for $1,000.  The start of the promenade begins directly in from of our historic Saratoga Springs hotel.
For those not planning to be in the promenade, you can still participate by being present on Broadway between Walton Street and Congress Park to watch and cheer for the beautiful floral designs rarely seen on the streets of Saratoga.  The parade begins at 7:30pm and at 8pm the Ice Cream Social commences in Congress Park.
At Congress Park, there will be a crowd singing of "Happy Birthday" to celebrate 150 years of Saratoga racing.  There will be plenty to see, hear and do with Skip Parson's Riverboat Jazz Band, strolling entertainers, Victorian-clad Saratogians, life size cutouts for picture taking, and special tokens to ride the carousel.  Oh, and of course, ice cream!
Be sure to mark your calendar for August 2, 2013, because a celebration this good may not come again for another 150 years.