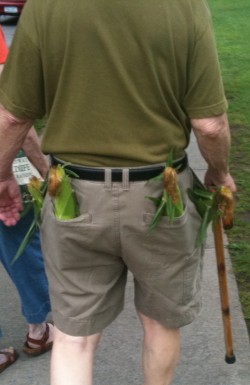 As the saying goes: April showers, May brings flowers. And May sure has delivered. With the warmth from sunshine giving new life to trees, plants, and wildlife, there is no doubt that Saratoga's Spring has sprung.
May also means the Saratoga Farmers Market returned to its outdoors home in High Rock Park. When it comes to capturing the true flavor of summer, this is the place to be. Featuring dozens of vendors, the twice-­‐weekly market includes local products ranging from vegetables, to cheese, to meat, to crafts.
Because everything is fresh and local, no two days' offerings are necessarily going to be the same. If a specific piece of produce isn't for sale, it isn't in season. Unlike regular supermarkets, these crops aren't genetically modified, imported from thousands of miles away, or forcefully ripened. Instead, you're getting food directly from the source; if you have a question about anything (even if it's as silly as "why are those carrots purple?"), you can ask knowing that the answer is a reliable one, since whoever answers is very likely to have played a first-­‐hand role in producing the food.
Also, if you live in the area and have a green thumb, you can pick up plants to grow in your own garden. Whether it is a pretty hanging basket of flowers or a tomato seedling, the only thing more local than produce from the Saratoga Farmer's Market is produce growing at your own home. Incase you have no idea where to begin, there is usually a booth with 'master' gardeners from the Cornell Cooperative Extension who can provide soil tests, answer any questions, and let you know about the programs they offer.
And don't worry about waiting until you're home to feast, as some of the vendors are there to cook up delicious food on site: smoothies, burritos, ice cream, and more! Additionally, even though taste is the focused sense of the event, the organizers schedule a musical act to keep your ears occupied as you go around smelling and tasting the fresh fare.
The Saratoga Farmer's Market runs Wednesdays 3pm-­‐6pm and Saturdays 9am-­‐1pm in High Rock Park. The market is within walking distance to Saratoga Arms.  We have plenty of room to store your goodies. If driving, parking is available on the street along High Rock Avenue in front of the market, or in the city lot adjacent (no charge for either).
Happy Marketing! And seriously…Purple Carrots do exist.