While "frightful" weather may be on the way, there is a "delightful" reason to be out and about on the evening of December 5 while staying in our downtown Saratoga Springs Hotel.  That date marks the 27th annual Victorian Streetwalk in downtown Saratoga Springs– a truly unique event being put on by the Downtown Business Association and a fun way to celebrate the holiday season in Saratoga Springs.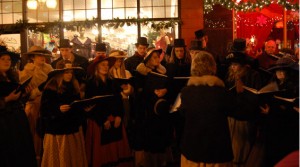 With the theme of a "Christmas as it used to be" street party, many will don Victorian costumes for the festivities.  Everyone is encouraged to attend, so not to worry if you cannot remember where your great-grandfather's top hat is stored.
Nearly half a mile of Broadway will be closed to traffic for highlights that include:  A tree lighting ceremony in front of Putnam Market.  Santa & Mrs. Claus in their cottage with live reindeer.  Music, caroling, and entertainment scattered along Broadway.  A special postal cancellation at the Post Office.  Open houses in stores.  And plenty more fun!
Also coinciding will be the Saratoga Festival of Trees located at the Saratoga Springs City Center.  This exciting event and craft fair puts the spirit of Christmas into attendees' hearts with hundreds of beautifully twinkling trees, wreaths, centerpieces, and other holiday items on display for admiration or purchase.  More information is available at www.SaratogaFestivalOfTrees.com.
In the spirit of giving and alleviating car congestion, CDTA busses will provide free trolley rides to Broadway from the Empire State College parking lot at 111 West Ave, the Oklahoma Track (off Exit 14 of I-87), and the Weibel Ave Skating Rink between 4:30 and 10:30pm.
But no need to bother with that if staying at our lovely Saratoga Springs Hotel since all of the action is merely a step off the front porch.
Before the holiday season gets hectic, we hope you can join us to celebrate this charming tradition on Thursday, December 5, 2013 from 6 p.m. – 10 p.m. The event is free and open to the public and is a fun festive way to celebrate the holiday season in Saratoga Springs.