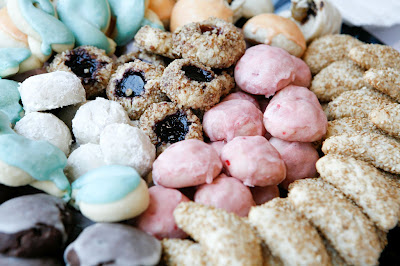 Are your holiday cookie swaps filled with just the same old snickerdoodles and rum balls? Are you looking for some new recipes to add to your holiday dessert menu? Or maybe you need a little jump start to get you in the holiday spirit this year?
NEVER FEAR – Saratoga Arms has a fabulous Italian Desserts Cooking School weekend designed especially for you. (And we have something extra special at the end of this post!)
Here is what is in store when you decide to travel to our Saratoga Springs Hotel on November 30th, 2012:
Start your trip out right… A FRIDAY EVENING ITALIAN WINE AND DESSERTS extravaganza. After a long drive, who doesn't need a nice glass or two, (or three) of wine.
Wake up on Saturday in Saratoga Springs, NY and come down to our dining room for a leisurely breakfast.
Attend a 1/2 day cooking school with Mamma Theresa from Forno Bistro. She has helped hundreds of budding Italian cooks arm themselves with the tools and expertise needed to put out authentic italian cooking. Learn how to make Italian cookies and desserts that you have only seen from the likes of Mario Batali.  Mamma lets you get your hands dirty and leave with a booklet filled with desserts, cookies and espresso and cappuccino RECIPES.
End your Saturday with a DINING CERTIFICATE to either Forno Bistro or Chianti Il Ristorante and let the true Italian chefs cook YOU an authentic Italian meal.
And when you return to your room, Mamma Theresa will have wonderful goodies waiting for you. Each are handmade by her. Trust us, they are delicious.
And here is the extra special part…If you decide to arrive on Thursday rather than Friday, we will give you THURSDAY NIGHT FREE. Why would we do that you might ask? Well, it is Saratoga Springs' Victorian Streetwalk; An evening of music, choirs, and holiday cheer. The main street of Broadway (where Saratoga Arms is located) is actually closed to automobile traffic. It is our town's way to kick off the Holiday Season. Make sure to use the "Thursday" promo code when calling or booking online for your italian cooking school extravaganza!
This dessert cooking school weekend is available for ONE WEEKEND ONLY, November 30th – December 2nd, 2012 (or November 29th if you take advantage of the Thursday night free offer). Pricing for the entire weekend begins at $569 per couple. Call us at 518-584-1775 or you may book directly online.
[bookicon]