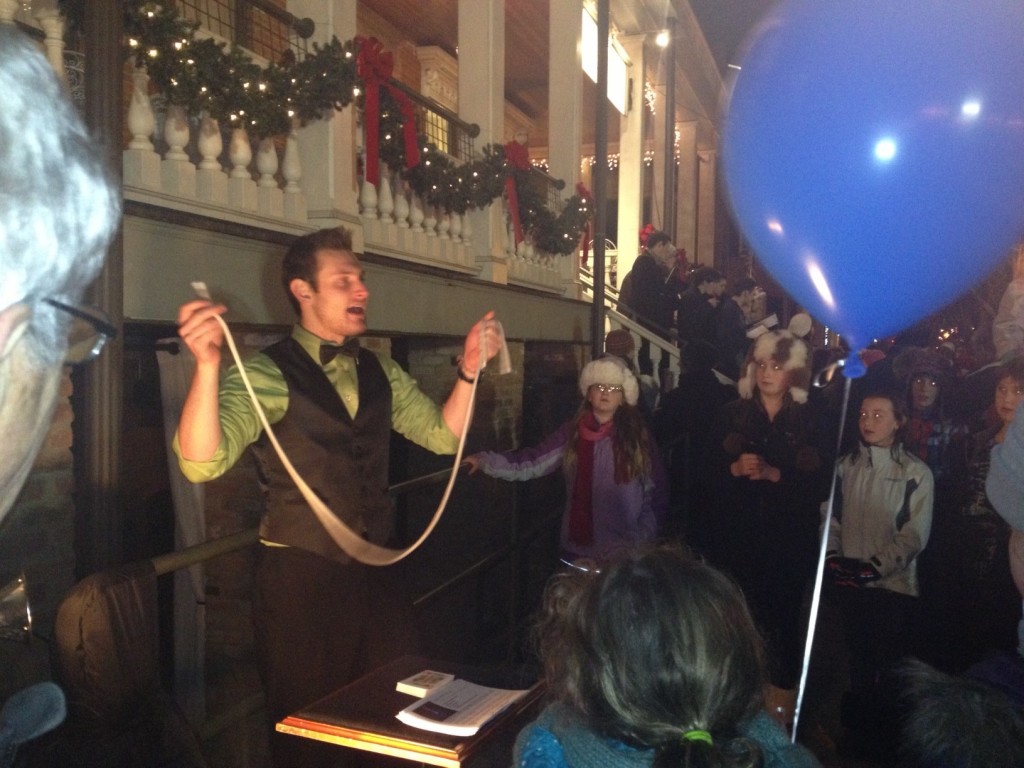 Wreaths are being hung from lampposts, beautiful displays of lights are appearing on houses, and snowflakes are falling from the sky. With the holiday season upon us, a feeling of magic is beginning to fill the air in Saratoga Springs, NY.
Not to be outdone, our Saratoga Springs Hotel is bringing in some holiday magic of our own: On Friday, December 7th, Saratoga Arms will play home to some unique magic of our own. International award-winning magician Aaron Rabkin comes to us all the way from Los Angeles to present his inventive brand of prestidigitation in the show Parlour Magic.
Saratoga Arms is thrilled to invite a select number of guests to enter our historic hotel—through the 140-year-old doors of the property—and transport back in time to play part in this exclusive event of enchantment.
Billed as An Intimate Evening of Conjuring, Aaron's performance hearkens back to the 19th century when hosts of the social elite entertained their guests with the finest sorcerers of the time.  As an attendee to Parlour Magic you will witness amazing feats utilizing anything from a deck of cards, to a borrowed $100 bill, to the thoughts in your very own mind; and when not feeling a sense of astonishment, you will be laughing along with Aaron's deft sense of humor.
But do not simply take our word for it… Here is what a couple audience members had to share about their experiences:
"Aaron was fantastic and his tricks or 'miracles' were in fact pretty miraculous. It was a wonderful evening full of laughs in a great setting."
"Aaron's performance was charming, comical and captivating. His mind for memory and his talent for trickery demonstrate how good old-fashioned entertainment can deliver a fresh evening of fun!"
This magical event is available for ONE NIGHT ONLY on Friday, December 7, 2012 at 8:00pm. Running time is approximately 90 minutes, which includes a 15-minute intermission with desserts and refreshments. VIP Tickets are $25 per person and general admission tickets are $15. Please call us at 518-584-1775 to reserve your spot.
Here is a sneak peak from Aaron Rabkin's YouTube Channel to engage and entice you to join us for a night of enchantment and parlour magic at our Saratoga Inn: