2017 Season
July 21 – September 4

Saratoga Springs is home to the oldest thoroughbred racetrack in America. For just six weeks each summer, guests at our Saratoga Springs bed and breakfast enjoy Saratoga Race Course, host to the most elite horses in the world.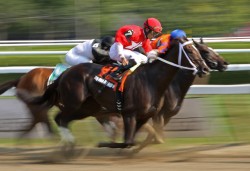 2017 Racing Dates
The 154th Saratoga Race Course meet will feature a record $17.45 million dollars in stakes purses, including the $1.25 million dollar Travers Stakes and the $1.5 million dollar Whitney Handicap.  The full 2017 Saratoga Racing Schedule should have over 33 graded races, including 15 Grade 1 events. From July into early September 2017 excellent horse racing  is in Saratoga Springs.
View the 2017 Saratoga Racing Special Dates:
Opening Day Celebration – July 21st ~ Live music, meet the horses & jockeys, and more!
The Diana & Sanford – July 22nd
Jim Dandy – July 29th
The Whitney – August 5th
Fourstardave & Adirondack – August 12th
The Alabama – August 19th
The Travers & Sword Dancer – August 26th
The Woodward & Spinaway – September 2nd
The Hopeful – September 4th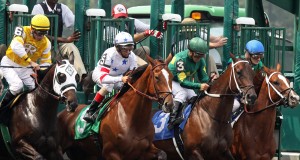 Admission to the racetrack (which does not include a seat) is $8.00 for Clubhouse admittance and $5.00 for General Admission.
Gates open at 11:00am on weekdays and 10:30am on weekends. First race post time is 1:00pm with Travers Day post time being 12:30pm.
There are a variety of seating options available to enjoy a day of racing. In the clubhouse dining rooms and box seats, dress in your summer best. Ladies, in summer hats are a long standing Saratoga tradition.  If informality is more your style, purchase a reserved seat in the clubhouse or grandstand or pack a cooler and try to secure a picnic table in the paddock area. These go fast, so get there early.
Seating Options at the Track
Reserved seats are available by special arrangement.
Advance sales of seats are reserved through mail order only. This is done by a lottery in October of the preceding year. Visit www.NYRA.com for details. If you are a last minute planner, limited seat cancellations are available on site the morning of each racing day at the general admission window on Union Avenue. A wait in line usually produces the desired seats.
Race Track Dining Offers All Day Seating
The Turf Terrace is located in the clubhouse overlooking the main track, offering a great view of each race, this four tiered restaurant is the most sought after option.
The At the Rail Pavilion is located at the end of the Clubhouse on ground level. This tent serves an extraordinary buffet with many fresh salads, meats, a pasta and dessert bar. Watch the races from the rail and feel the pounding hooves as the horses round the clubhouse turn.
The Carousel Restaurant is located on the back side of the Clubhouse. The newest restaurant at the track, the Carousel serves a full menu. No, you can't see the track from this place but with TVs positioned at every angle you won't miss an exciting finish.
Reservations are required for all of these restaurants. For reservations or additional information, call 888-516-6972.
Saratoga Gaming and Racing
Saratoga Gaming and Raceway offers live harness racing along with video gaming and live entertainment.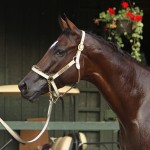 The trotters race evenings from February through November. Post-time 7:40pm. Call for racing days, 518-584-2110 or visit their website at www.saratogaraceway.com.
Saratoga Polo
In addition to thoroughbred and harness horse racing in Saratoga Springs, Saratoga is also a summer home to world class polo dating back to 1898. Played at the polo fields on Bloomfield Road and on the Saratoga Gaming and Raceway grounds, polo players and ardent fans from all over the world converge on Saratoga Springs. For field locations call 518-584-8108 or visit their website at www.saratogapolo.com.
Book early at our Saratoga Springs hotel for a racing getaway to remember.