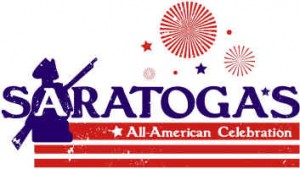 As every American learns growing up: July 4, 1776 was the day that our founding fathers signed the Declaration of Independence and marked the birth of this great nation. 237 years later, we continue to honor and celebrate "Life, Liberty, and the pursuit of Happiness" by proudly displaying our patriotism toward the red, white, and blue. Where better to do so, than Saratoga Springs, mere miles from where the Battles of Saratoga took place and marked the turning point of the Revolutionary War in favor of American Independence.
But enough about the past, let's talk about the future…July 4th, 2013 is gearing up to be a very exciting day in Saratoga Springs!
It starts off at 9:00am with a BANG (literally) as thousands of runners take part in a 4-mile Firecracker road race through the historic streets of Saratoga. Beginning and ending in front of the City Center on Broadway, live entertainment along the course, food, refreshments, and a large vendor courtyard. Even if you don't plan to race, there is plenty to do, and plenty of runners to cheer for!
Saratoga's All-American Celebration officially opens with the All-American Parade marching down Broadway from Van Dam Street to Spring Street. Led by the Korean War Veterans Color Guard, the parade will feature participants from all over Saratoga County, including historical re-enactors, and dozens of adorable Patriotic Pooches that will be marching on all fours!
Sixth-Annual All-American BBQ & Dessert Fest. You'll be able to try some of the best BBQ and dessert from dozens of participating restaurants. Each tasting is only $1, and qualifies you to be a judge and vote for your favorites!
Family Day in Congress Park with live re-enactors, historic kids games, face painting, carousel rides, live music, and (more) food.
For car people, Congress Park Plaza will showcase up to 70 beautiful American and exotic cars. These perfectly restored pieces of American history will be on display to further take you back in time.
Join Charlie Kuenzel, Dave Patterson, and Dr. Hollis Palmer on the 90-minute walking tour of the Congress Park area focusing on a day in Saratoga…as it was in 1863. You'll hear stories of the great hotels, the world famous mineral springs, and the activities that entertained visitors to the city in the summer that marked the official opening of the Saratoga Race Course.
4:00pm to 6:00pm in the Saratoga Downtowner parking lot will put more delicious aromas in the air as local residents team up with celebrities to make their best BBQ in the Mom & Pop amateur BBQ Competition.
Congress Park starting at 6:30pm. Spread out your blankets and enjoy music by one of the area's favorite bands–The Audiostars–all while enjoying even MORE food, family, and all the rest of your friends partaking in the celebration!
Live reading of the Declaration of Independence. Experience patriotic pride along with thousands of others in Congress Park at 9:15 pm.
What better way to wrap up the festivities, than a July 4th FIREWORKS display! Set to patriotic music, the sky above Saratoga Springs will be lit up with an incredible display of colors and crackles.
That's a lot to remember, so make it easy on yourself and simply mark July 4th on your calendar as a Saratoga Springs day. As long as you're on Broadway (which is incidentally walking distance from Saratoga Arms, you'll never be far from one of the many awesome activities planned for the Saratoga 4th of July during what ABC News ranked as one of the Top Ten small-town celebrations in America.